Elegantly simple
corporate holiday
eCards
ekarda makes it radically easy to create and
send corporate holiday eCard campaigns.
Some of our 12,000+ clients

Create stunning corporate holiday eCards in minutes
Create gorgeous corporate holiday eCards featuring your logo using our eCard templates.
Your eCards are guaranteed to look perfect in every inbox, on every device.
CREATE STUNNING HOLIDAY eCARDS
Upload one or more logos &
choose a design from our extensive gallery
or have a custom card created.
EMPOWER YOUR CO-WORKERS
Authorize any number of staff
to send eCards using the logos and
card designs you control.
TRACK YOUR SUCCESS
View your success via in-depth
reporting showing bounces and
opens for each campaign.

Beautiful corporate holiday eCards that get results
With a wide range of high-quality corporate eCard designs and the ability to perfectly
match your brand – your holiday eCards will look better than ever.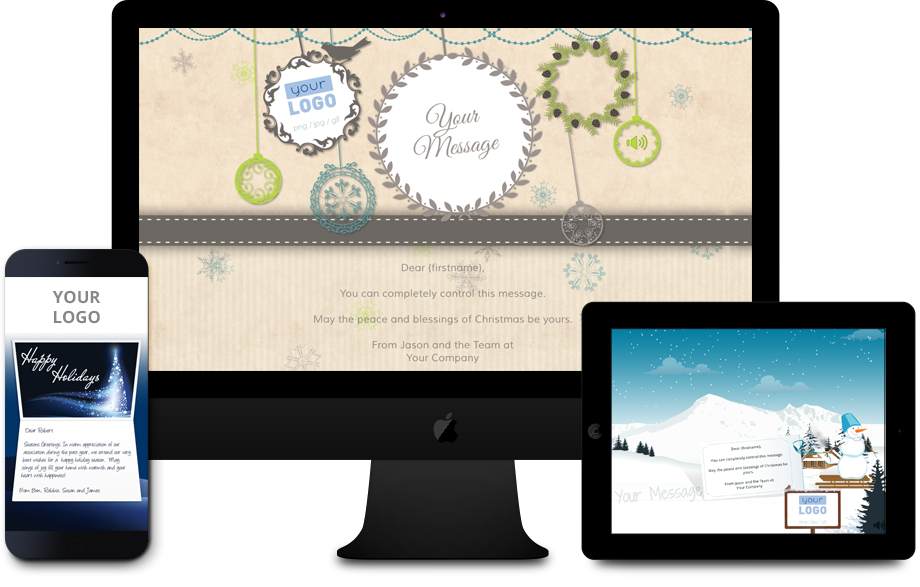 Corporate holiday eCards for any size business
Whether you're a small business looking to send a few hundred holiday eCards or a large corporate needing to empower 1000s of staff, ekarda's unique blend of high-quality designs, affordable pricing and simplicity is the perfect fit for any size business.
Need to send using Outlook or your own email software?
If you need to send your Christmas eCards using Outlook or email marketing software like MailChimp or Constant Contact – we can help.
We'll provide you with everything you need to send out beautiful eCards branded with your company logo and message.